Central
The central vein system was mined most recently by private companies for silver & gold in the 1970s, but closed in the early 1980s due to a drop in silver prices. The Palma and the Sauce veins were mined down to the water table.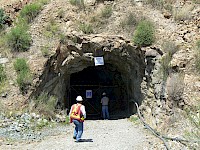 South-Eastern
The southeastern vein system had been mined to extract 'fluorite' from the Durazno and Impulsora veins. In places, the vein is 20 m thick. These operations mark a high level in the epithermal vein system. The southeastern vein system shows an increase in sulphides & precious metals with depth. Also in the southeastern zone is the broad Promontorio, a gold-rich stockwork system.

Western
The western vein system was drilled with one hole in the late 1970s, in the Loma Verde vein. Gold & silver results were strong and while a follow-up program was planned, it was never executed. Since then, 20 holes have been drilled in Loma Verde in Phases I to IV.

Northern
Additional vein systems are located in target areas to the North including La Bufa, Santo Nino, El Reliz, Rosario, and El Rey.